Ryan Evans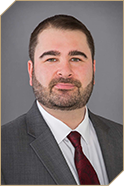 Ryan joined Giesbrecht, Griffin, Funk & Irvine as an Associate Lawyer in 2021. Ryan practices primarily in the areas of Corporate Law, Commercial Law, Real Estate and Wills & Powers of Attorney.
Ryan received a Bachelor of Arts (Honours) degree from the University of Windsor in 2010, specializing in Psychology and Criminology. Ryan attended Law School at the University of Windsor and the University of Detroit Mercy, where he earned a Canadian and American Juris Doctor degree concurrently.
While at law school, Ryan interned at the Appellate Veterans Law Clinic, where he helped military veterans obtain disability benefits for injuries sustained during service. Ryan has also done extensive volunteer work with the John Howard Society of Ontario.
Ryan is a member of the Canadian Bar Association. In his spare time, Ryan enjoys writing music, mountain biking and playing hockey.