Martin Mahlstedt
B.A. (Hons.), M.A., LL.B.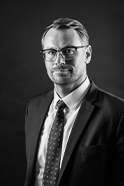 Martin was born and raised in Waterloo Region, and attended Waterloo-Oxford District Secondary School before obtaining a Bachelor of Arts at the University of Toronto, where he majored in history and political science and graduated with Honours. Martin also resided in the U.K. where obtained a Master of Arts in International Security from the University of Nottingham in 2008 and his Bachelor of Laws from Birmingham Law School at the University of Birmingham in 2012.
After completing his articles with the firm, Martin received his Call to the Bar in September, 2014 and was pleased to return to GGFI Law as an associate lawyer. Martin now practises primarily in the area of real estate and corporate/commercial law, while also practising in wills and powers of attorney, and estate administration.
Martin is a member of the Waterloo Law Association.
In his free time, Martin enjoys travelling, reading and running. Martin currently resides in Wilmot Township.
Contact:
martinmahlstedt@ggfilaw.com