Robert Lanteigne
B.S.M. (Hons), J.D.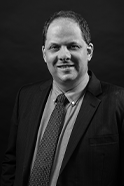 Rob was born and raised in Kitchener, and attended St. Mary's High School. Rob then attended Brock University in St. Catharines, Ontario. He completed a Bachelor of Sport Management with a minor in political science, graduating with the top mark in his program.

Rob attended law school at the University of Western Ontario and earned his law degree in 2014. He represented Western at the 2013 Wilson Moot and 2013 Law Games Moot, and took first place at the 2014 Law Games Moot in Montreal. He summered with the legal aid clinic at Western, earning valuable trial experience in small claims, criminal, and landlord/tenant matters.
Rob completed his articling term with Giesbrecht, Griffin, Funk & Irvine and was called as a lawyer in June 2015. Rob practices in the area of corporate/commercial law with a specialty in commercial leasing and real estate. However, his practice also includes residential real estate, wills and estate planning, and civil litigation.

Prior to attending law school, Rob was twice-elected as the Vice President University Affairs of the Brock University Students' Union, serving as the student voice on policy issues to the university governing bodies and to all levels of government. Rob has also worked for the Asthma Society of Canada, and continues to volunteer his time on the Executive Committee of the National Asthma Patient Alliance. He also sits on the Board of Directors for OneROOF, an organization serving youth at risk in the Waterloo Region.

Rob is a member of the Waterloo Law Association. In his spare time, he can likely be found patrolling the outfield on a slo-pitch diamond, sweeping a curling stone, or relaxing with a good book.